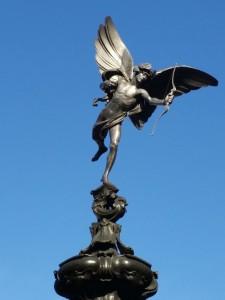 Along with sharing Champagne by candlelight, the warm, welcoming glow of a real fire is one of the essential ingredients for a romantic Valentine's night in. However, looking closely at Thornhill Galleries collection, it seems that there's more romance to a fireplace than the flickering flames... Our forebears added a touch of romance into the designs of the actual fire surrounds. Motifs from Greek and Roman legends were popular in the neoclassical designs of the Georgian period; and Cupid, the youthful God of Desire, features in several of our antique fireplaces.
In earlier images, he's a graceful figure - think of the statue of Eros (as Cupid was known to the Ancient Greeks) in London's Piccadilly. Later, he filled out rather, becoming the chubby little cherub we're more familiar with. He's certainly a plump little figure on the centre plaque of this English Georgian fireplace.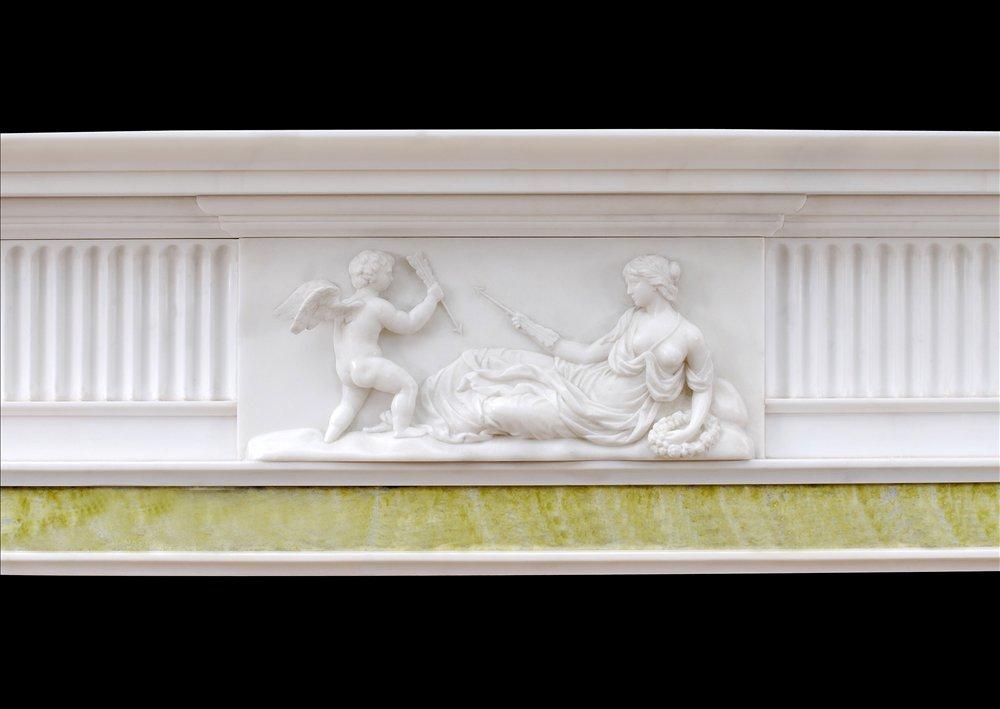 In this charming scene, the winged Cupid is shown holding one of his arrows, while his mother Venus, the Roman Goddess of Love, reclines next to him. Cupid also features on the side blocks of the statuary marble antique fireplace, playing an instrument.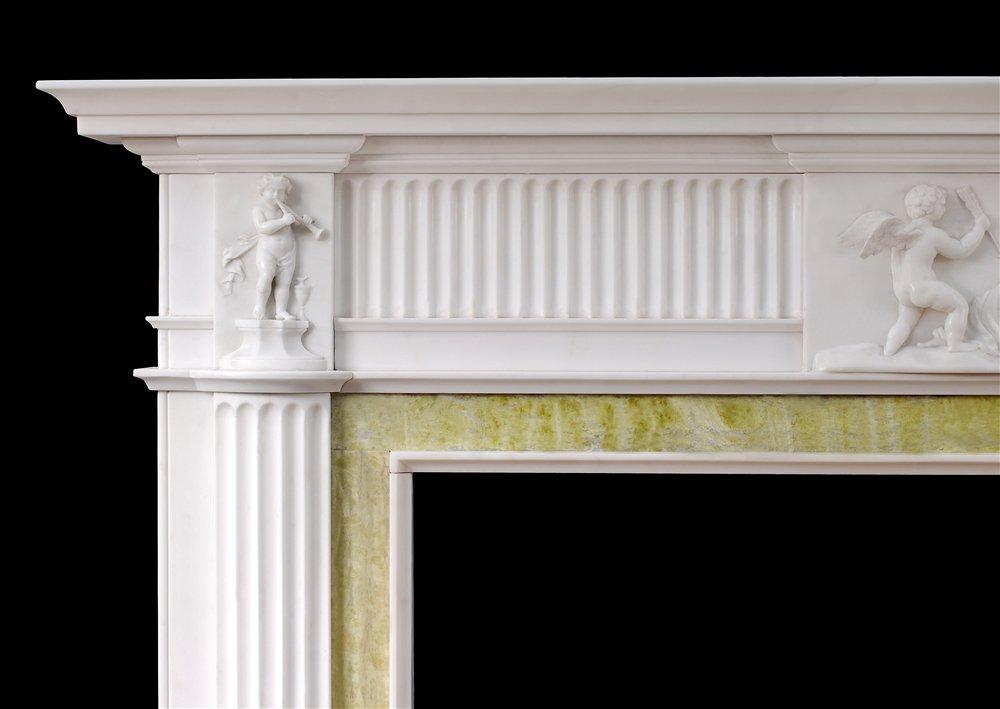 The details of the scenes on this beautiful fireplace are charmingly detailed - and with not one but three Cupids, it's probably the most romantic fire surround we have at the moment! Carvings aside, it's a stunning piece, with a vivid greeny-yellow inlay that contrasts wonderfully with the bright white of the jambs and frieze. Another striking antique fireplace with contrasting marbles and a romantic theme, is this George III fire surround.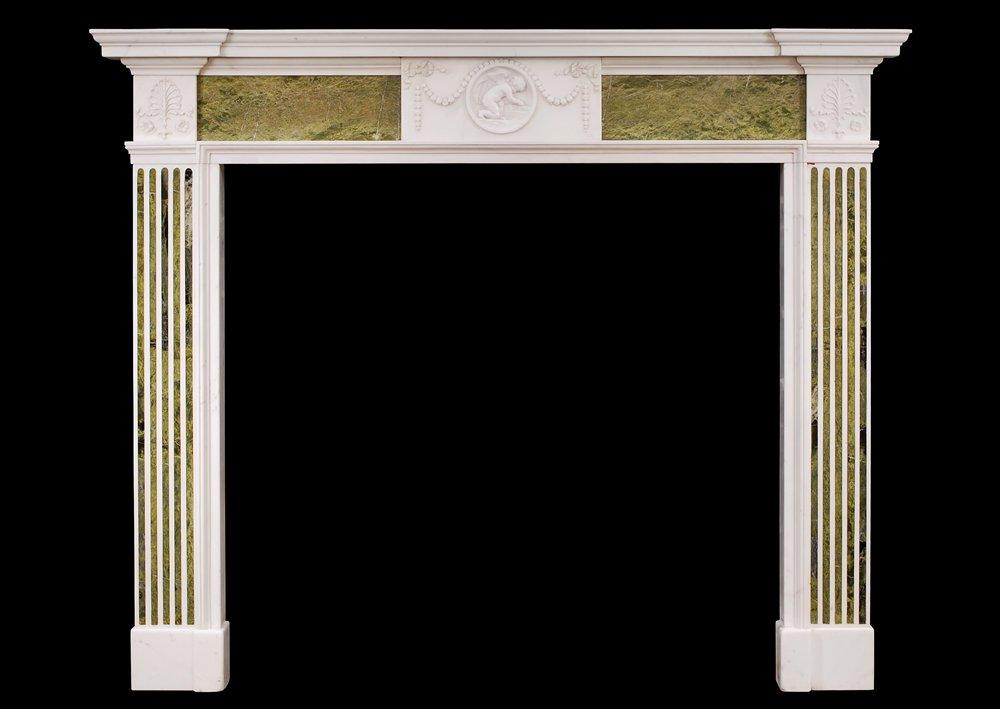 The striking dark green inserts are made from Connemara marble, a gorgeously rich stone quarried in Ireland. The contrasting stripes on the fluted jambs would make it a real focal point; however it's the detail in the centre panel that caught our attention this time. Here, Cupid is shown again as a rotund little infant, in a garlanded roundel.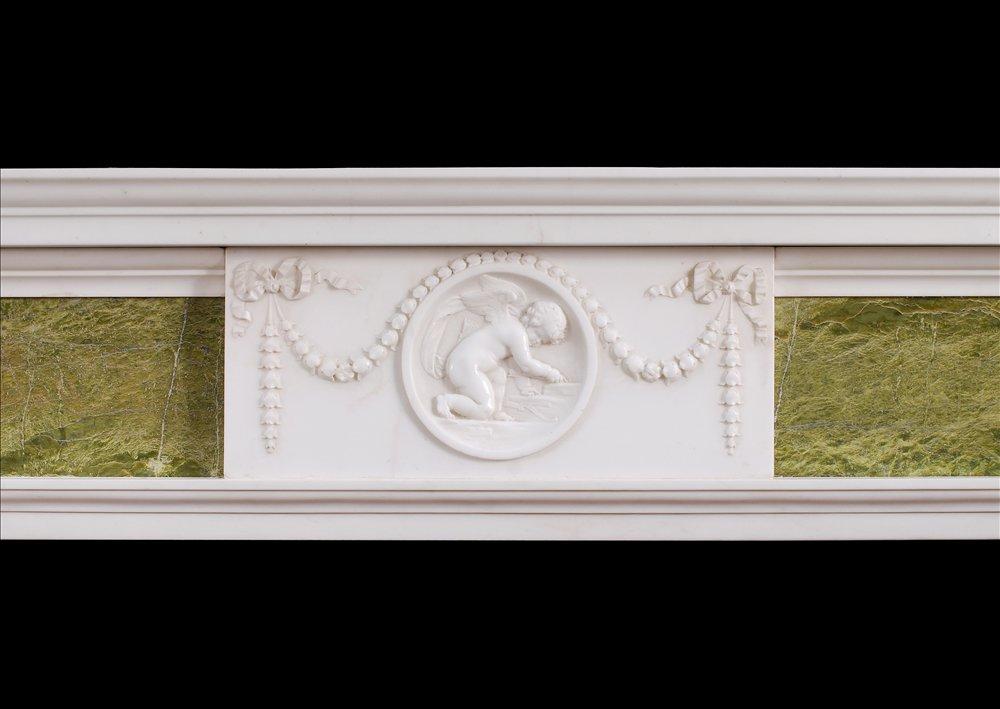 Cupid's shown in action on this neoclassical marble fireplace, firing his famous arrow. Again, he takes centre stage on the Wedgwood Jasperware plaque.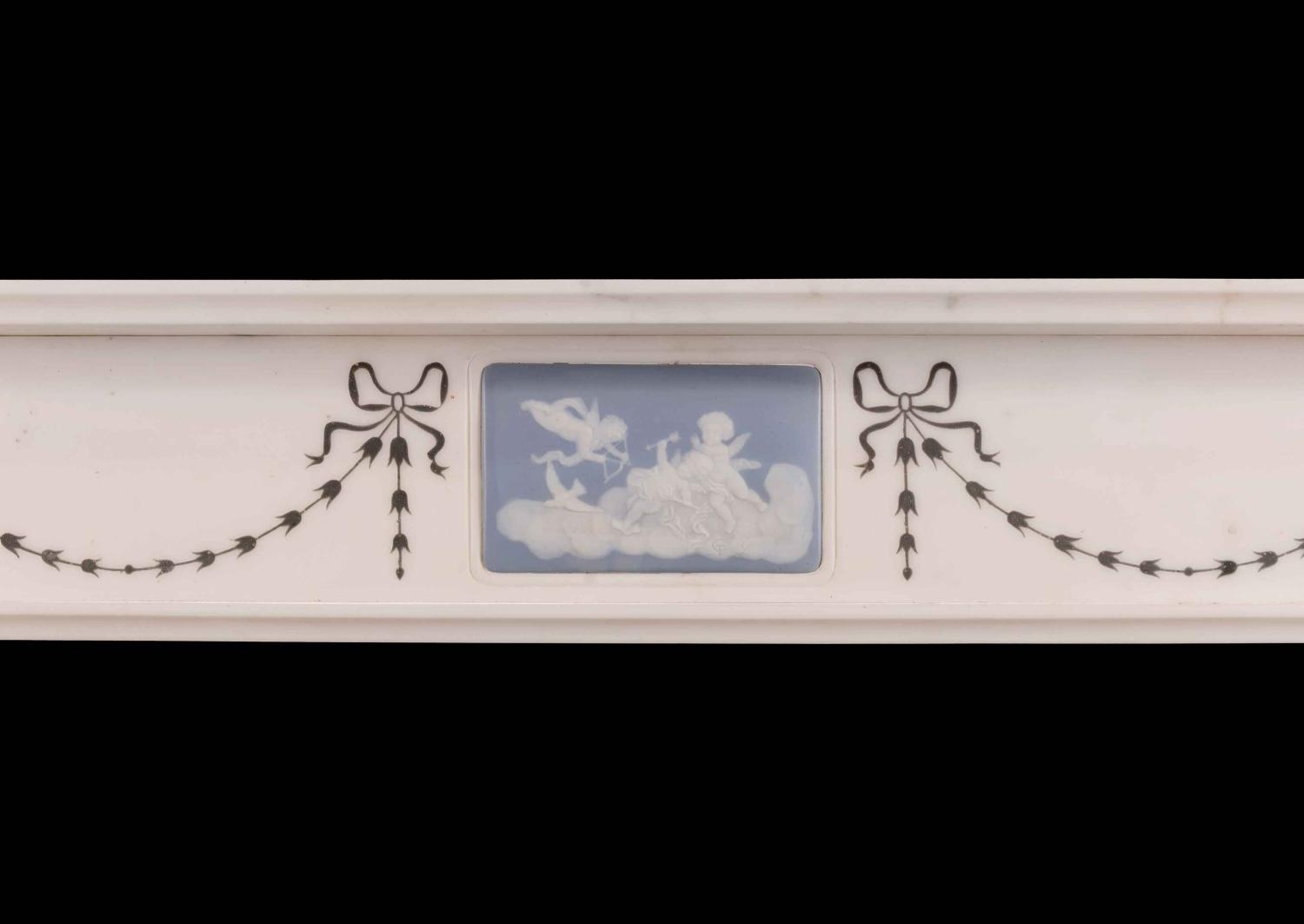 The appealing scene is bordered by scagliola (fake marble) swags of ribbons and bellflowers. It's a delicate fireplace, which would add a touch of romance to a bedroom.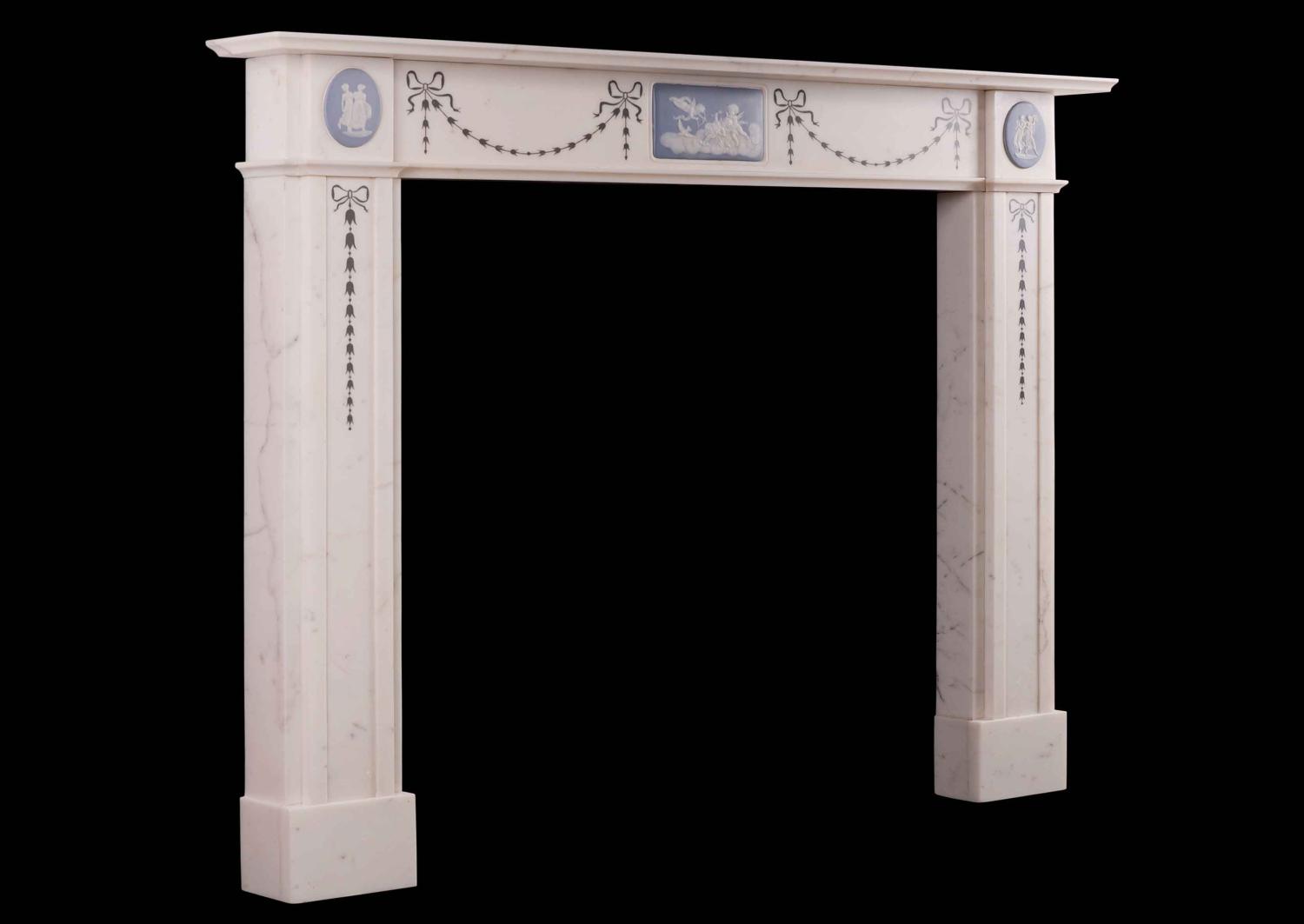 There are cameos of graceful classical female figures on the sideblocks - hoping to avoid or be caught by one of Eros' famous arrows? Finally, this dramatic mid eighteenth century Statuary marble fireplace depicts a playful Cupid in the centre plaque, holding his bow and arrow, and engaging with two little putti friends. The three detailed figures are in a roundel flanked by elegant swags: a really stunning piece of carving.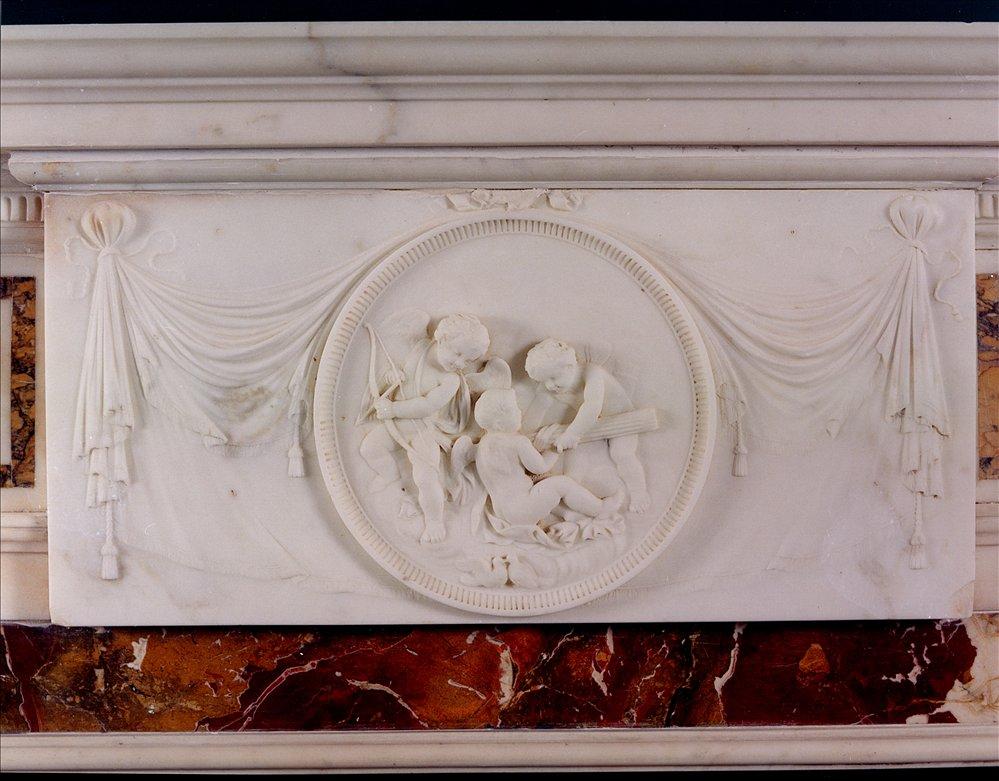 The Thornhill Galleries antique fire surround is truly spectacular, with a warm Sienna marble inlay to the frieze and an elegant Jasper inlay to the jambs which is accentuated by Statuary marble Ionic columns.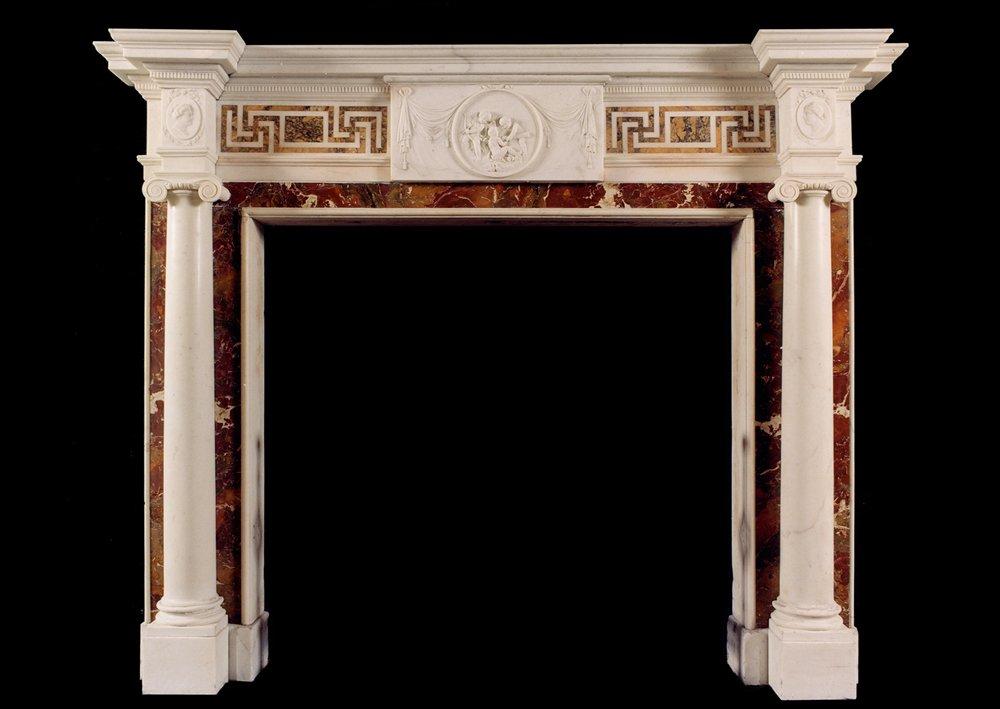 The superb quality of this splendid English fireplace suggests that Cupid motifs were sufficiently desirable to feature on really high-end pieces. The detailed carvings contrast with the otherwise rather masculine design. Love, therefore, is built into the very fabric of our fireplaces! If there's a particular theme you'd like to see on your fireplace, romantic or otherwise, please let us know, and we'll search it out.
Featured image: William Hogarth, The Lady's Last Stake, via Wikimedia Commons