This is an unusual English antique coal box. This antique coal box/scuttle is made in steel and dates from around 1900. The coal box is very well made and is heavy quality, complete with a liner. A mildy Art Nouveau influence can be seen. The overall condition is very good, with no dents or marks.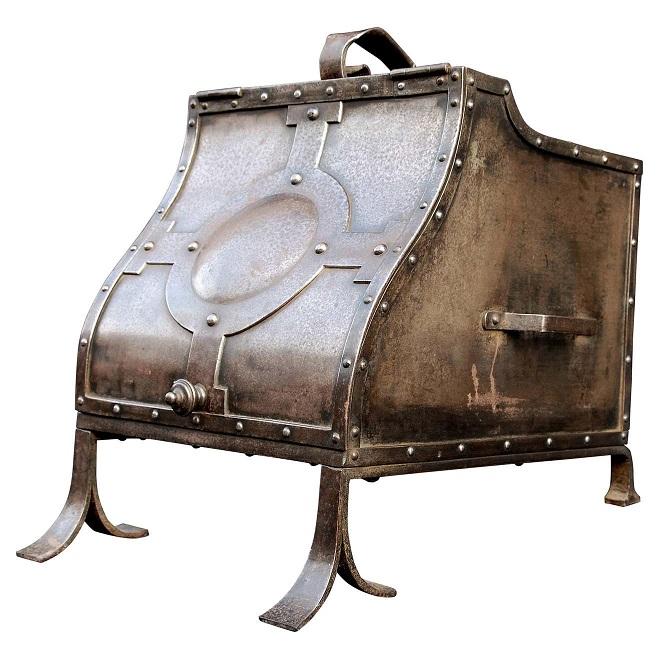 Art Nouveau is an international style of art, architecture, known in different languages by different names: Jugendstil in German, Stile Liberty in Italian, Modernisme català in Catalan, etc. In English it is also known as the Modern Style. The style was most popular between 1890 and 1910 during the Belle Époque period that ended with the start of World War I in 1914. It was a reaction against the academic art, eclecticism and historicism of 19th century architecture and decoration. It was often inspired by natural forms such as the sinuous curves of plants and flowers. Other characteristics of Art Nouveau were a sense of dynamism and movement, often given by asymmetry or whiplash lines, and the use of modern materials, particularly iron, glass, ceramics and later concrete, to create unusual forms and larger open spaces.
The first Art Nouveau houses and interior decoration appeared in Brussels in the 1890s, in the architecture and interior design of houses designed by Paul Hankar, Henry van de Velde, and especially Victor Horta, whose Hôtel Tassel was completed in 1893. It moved quickly to Paris, where it was adapted by Hector Guimard, who saw Horta's work in Brussels and applied the style for the entrances of the new Paris Métro. It reached its peak at the 1900 Paris International Exposition, which introduced the Art Nouveau work of artists such as Louis Tiffany.
From Belgium and France, it spread to the rest of Europe, taking on different names and characteristics in each country.
By 1914, with the beginning of the First World War, Art Nouveau was largely exhausted. In the 1920s, it was replaced as the dominant architectural and decorative art style by Art Deco and then Modernism.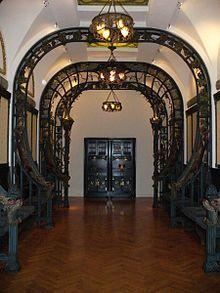 To find out more about this piece please visit our website where you can view it & many other rare & unusual marbles.