This is a striking Regency style fireplace in white marble with fine quality bronze detailing. The frieze with bronze female mask and ribbons with trailing foliage. The fluted jambs with carved inner mouldings, adorned with bronze female figures and stiff acanthus leaves to base. Shaped breakfront moulded shelf. A copy of a period original.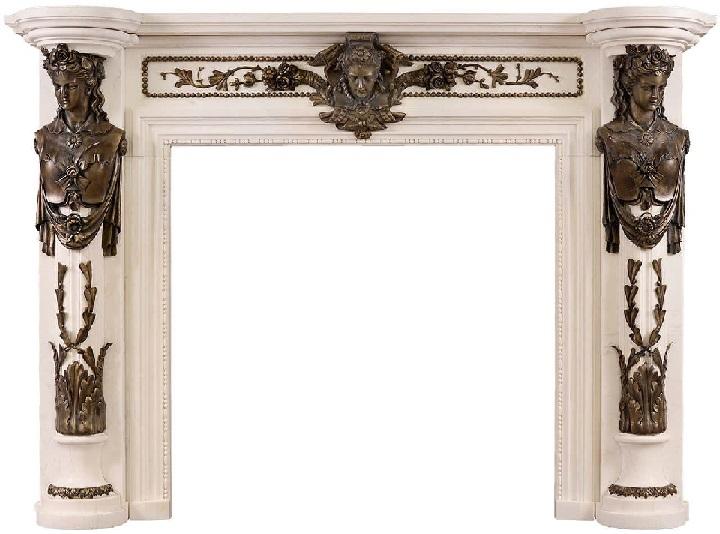 Crafting an object out of gilt bronze demands a considerable amount of work and the participation of several workers and different trades. Firstly, a sculptor creates a mock-up of the object out of terracotta or wood, following a drawing or model. Then, after printing a mold of the mock-up, the smelter-chiseler smelts the bronze by casting the molten metal into the mold. The chiseling is very important to the value of a bronze piece. At this step, the smelter-chiseler must render the model, slightly affected by the smelting, as closely as possible. This aspect of his trade is close to that of a sculptor, and only the best artisans are allowed to complete this step. Next, there is the gilding phase, that used to be executed by the chiseler-gilder, until Louis XVI decided to combine the smelter-chiselers and the chiseler-gilders who kept fighting each other for rights.
This phase can correspond to two different techniques: mercury gilding (or ground gold) and gold leaf. For the first method, gold that has been broken down into lime or ground on a grinding stone is mixed with mercury. The bronze object is then covered with this amalgam, and heated to make the mercury evaporate and the gold stick to the bronze.
After cooling, the gold is crafted with different techniques: matting, burnishing, which brings out the volumes, details, and the coloring of the gold. Mercury gilding is usually very high quality, solid and long-lasting. However, mercury vapor is known to be extremely toxic and dangerous for the workers' health. To carry out a gold leaf gilding, one must prepare the gold in leafs or booklets that are placed on a pad and set with a brush on the metal, turned blue by the fire. This gilding is not as resistant as one created with an amalgam and less suitable for subtle details, but it is less expensive. Gold-plating, invented in 1827, did not create toxic vapor so was a solution for preserving the artisans' good health. Gilt bronze can be found in fireplaces, on stairway railings, door locks, luminaries (chandeliers, lanterns, and candelabras), on furnishings, in clockwork (pendulums, clocks, and barometers), on mounted vases, fireplace frames, and ink-pots.
To find out more about this piece please visit our website where you can view it & many other rare & unusual marbles.