When looking at the architecture of post-Enlightenment Britain, there is evidence of the influence of certain masters all around us. One key figure in establishing British architecture on its own merits was Robert Adam whose legacy still resonates today and is prevalent in many of the antique fireplaces and mantels within the Thornhill Galleries collection.
Robert's father, William was arguably Scotland's pre-eminent architect and, as such, Robert (born in 1828) grew up with the lexicon of architecture always around him. William died at the age of 20 and Robert joined the family architectural firm (Adam Brothers) alongside his two brothers John and James.
Robert's development took in travels to various houses in the south of England (including Wilton House, designed by Inigo Jones) but it was his Grand Tour of Europe in the mid-1750s that represented the turning point for Robert's future architectural vision. Over three years of travelling throughout Europe (and particularly Italy), Robert spent time learning from artists and Classical archaeologists and developed the forensic understanding of Greek and Roman architecture that allowed him to so effortlessly transcend the structures that most of his contemporaries felt bound by within the Palladian movement.
Palladian architects represented the vogue within Georgian Britain of the time and their style was very tightly bound to Classic forms. Adam himself, with his freshly evolved neo-Classical style, felt sufficiently in control of his art to play with these forms; juxtaposing, for example, Ionic and Doric features within a single tableau - such as with the Royal Academy of Arts. In this way, he developed his 'movement principle.' Although he took the Classical style as an inspiration he did not feel tied to pre-conceived expectations of how those features should be put together. In this manner, he broadened his architectural vocabulary and could, by extension, articulate himself more freely.
This playfulness of design was not limited to architecture - he took his 'Adamesque style' and applied it to interior design also; mixing room sizes and decorative schemes from a variety of periods to ensure an eye-catching contrast throughout his buildings. His neoclassical approach can be seen today, not just in specific references to his trademark juxtapositions but also within the broader freedom of expression that modern architects feel in the interplay of style and form.
A good example of this classic 'Adam style' can be seen in one very fine white marble fireplace offered by Thornhill Galleries. A hand carved copy of an 18th century period original, it features very finely carved urns, drapery and foliage, and epitomizes the refinement and elegance Adam brought to his work. For more info on this fireplace, please click here.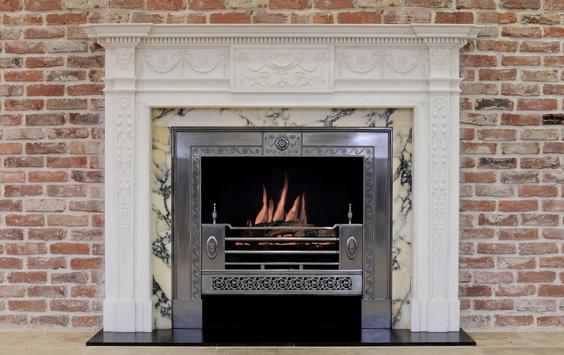 Not only was he startlingly innovative, Adam was also extremely industrious - the list of public buildings he built is formidable, ranging from Fort George in Scotland through a large number of public buildings in Edinburgh (including the Royal Exchange) down to Pulteney Bridge in Bath (pictured below) and Admiralty Arch in London. This body of work is equalled by his private commissions, including Syon House, Newby Hall and Culzean Castle.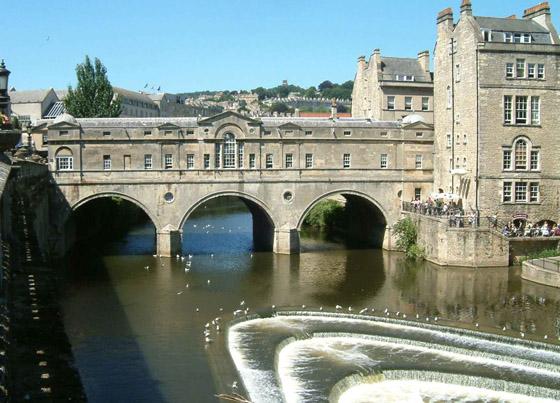 Of course, his buildings outlive him and are testimony to his élan and flair but Adam was hugely influential within his own lifetime, refashioning the world's approach to architecture.