If you're looking for a bespoke, reproduction or antique fireplace that's eye-catching without being too distracting, a surround made from two-toned inlaid marbles is worth considering. We love sourcing, designing and making these elegant pieces, and nothing brings the beauty of a marble fireplace to life than a splash of contrasting colour. Inlays also feature in wooden fireplaces; but we'll start with a look at some marvellous marble. This English Regency style fireplace makes subtle use of warm Siena marble to create a richly elegant piece. A small amount of inlay like this really adds to a fireplace, giving that touch of individuality without shouting its uniqueness too loudly. It also gives you a lovely deep accent colour to work with in your decorative scheme.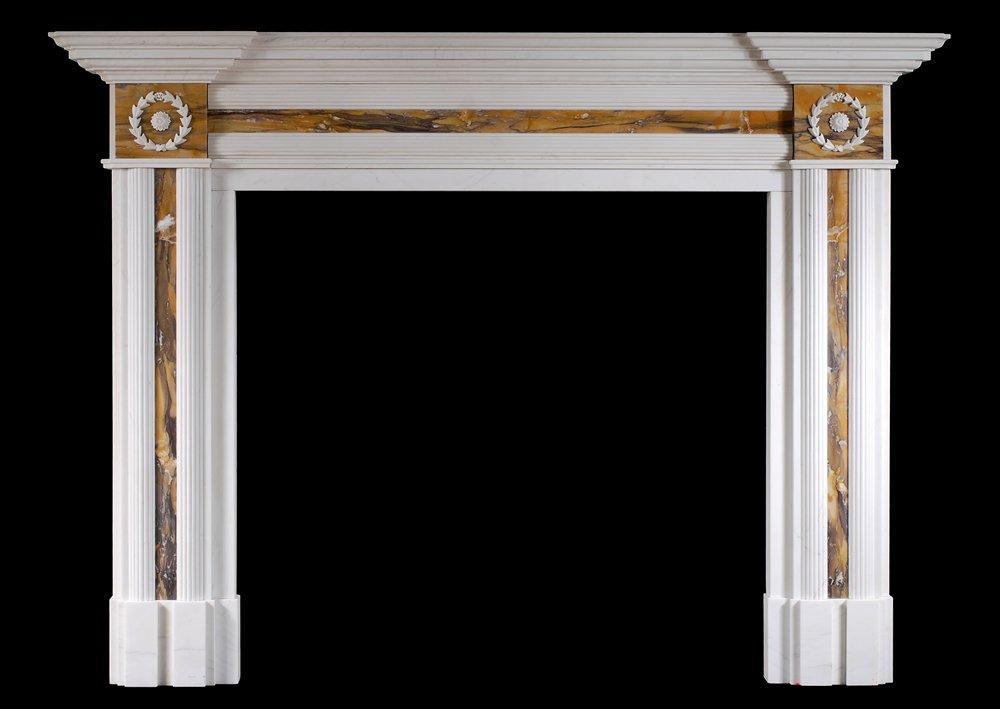 Siena marble is a great choice of inlay: it comes in a variety of swirling autumnal shades, and its patterned veins contrast well with simple white surrounds. It's used in this 18th century English antique fireplace to create the Greek key pattern. Furthermore, the elegant brown/red Jasper marble on the jambs really makes the architectural columns stand out.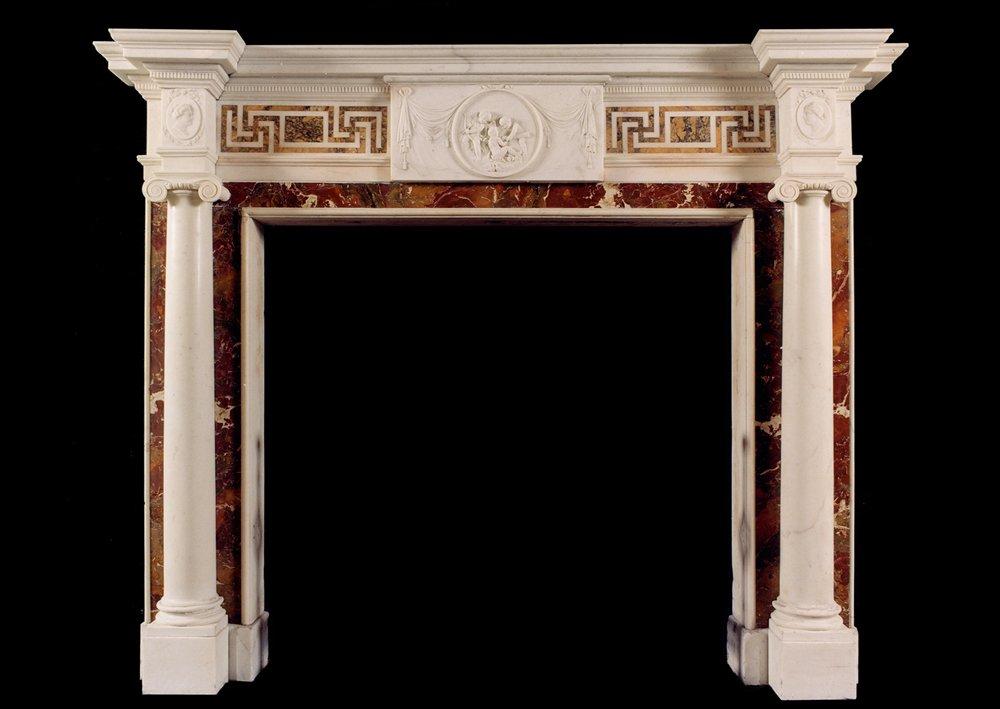 This is a great example of how the richer colour can be used as the background for white detailing. This simple Regency style fireplace is mainly made from Swedish green marble while the Statuary marble forms the inlaid detail.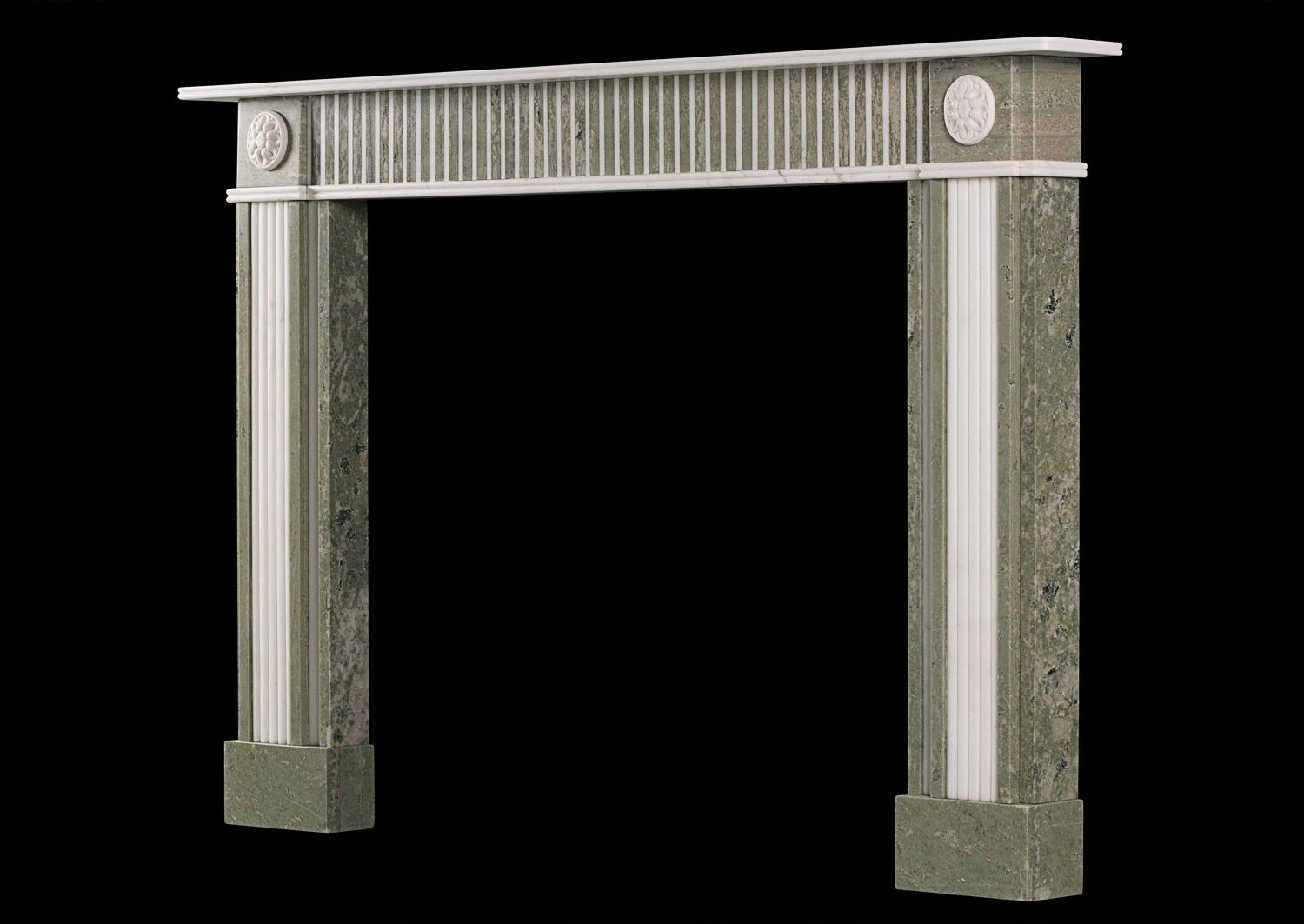 The symmetrical and clean design is almost severe,but is softened by the white detail. The colours are lovely and restful, and the fireplace would work well in a contemporary space. From the calm to the dramatic... This other Regency inspired fireplace shows how inlay can be used to create a really theatrical effect.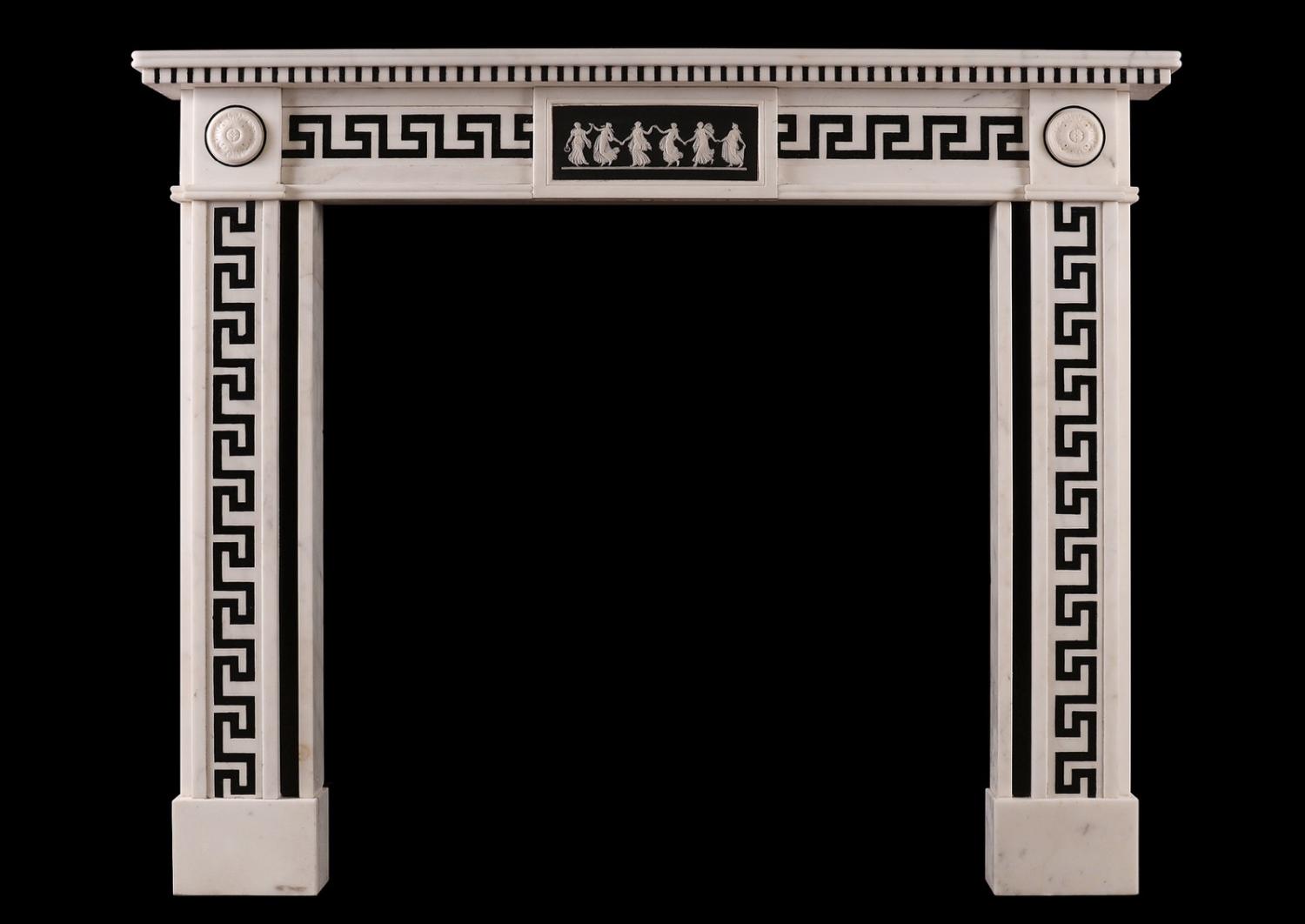 The white marble is inlaid with shocking black Greek key motifs. The central freize of dancing girls is made from cast composite. An absolutely stunning 20th century fireplace that would transform any living space. Inlays don't have to be marble. We have a couple of wooden fireplaces with beautiful inlaid designs. "Japanning" was popular in Britain from the 17th century onwards. It's our version of Asian laquerwork. Resin is applied to the surface in heat-dried layers, and then polished for a gorgeously glossy finish. This 19th century wooden fireplace in the style of Chippendale has some stunning Japanned designs.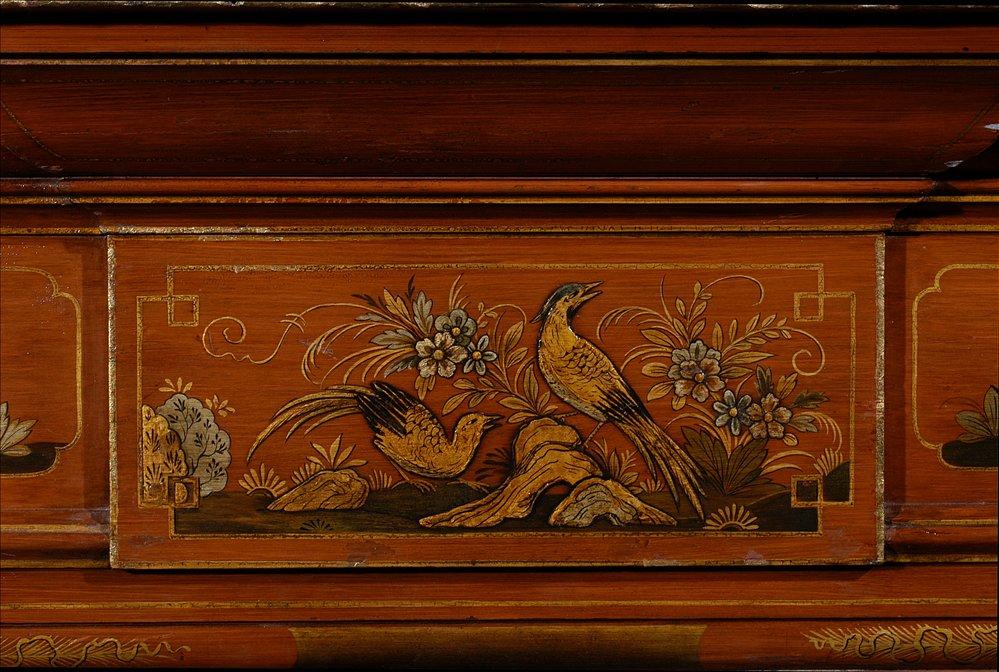 The peacocks and foliage are highlighted in vibrant gold leaf. The jambs and side panels are also lavishly decorated, and the pagoda is edged with more gold leaf.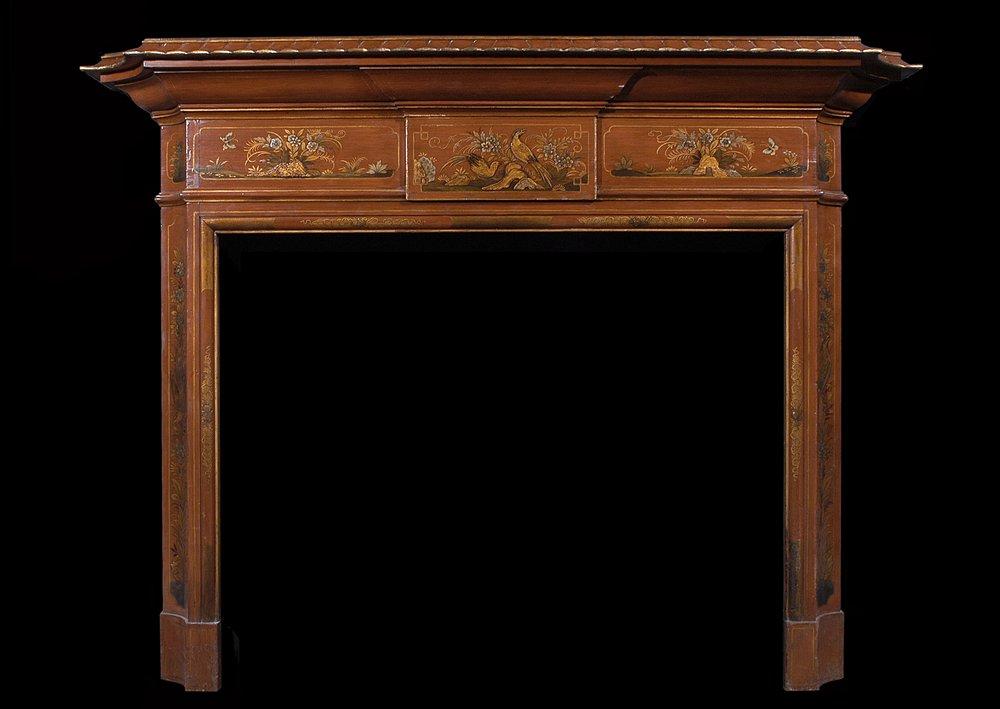 It's one of those wonderful fireplaces that combines eye-catching design with subtle details, and would look perfect in a 19th century house (we can picture it in a library or study!). Our second Japanned piece is a distinctive early 20th century fireplace in a striking blue-grey shade. The intricate design features Oriental temples, birds and figures.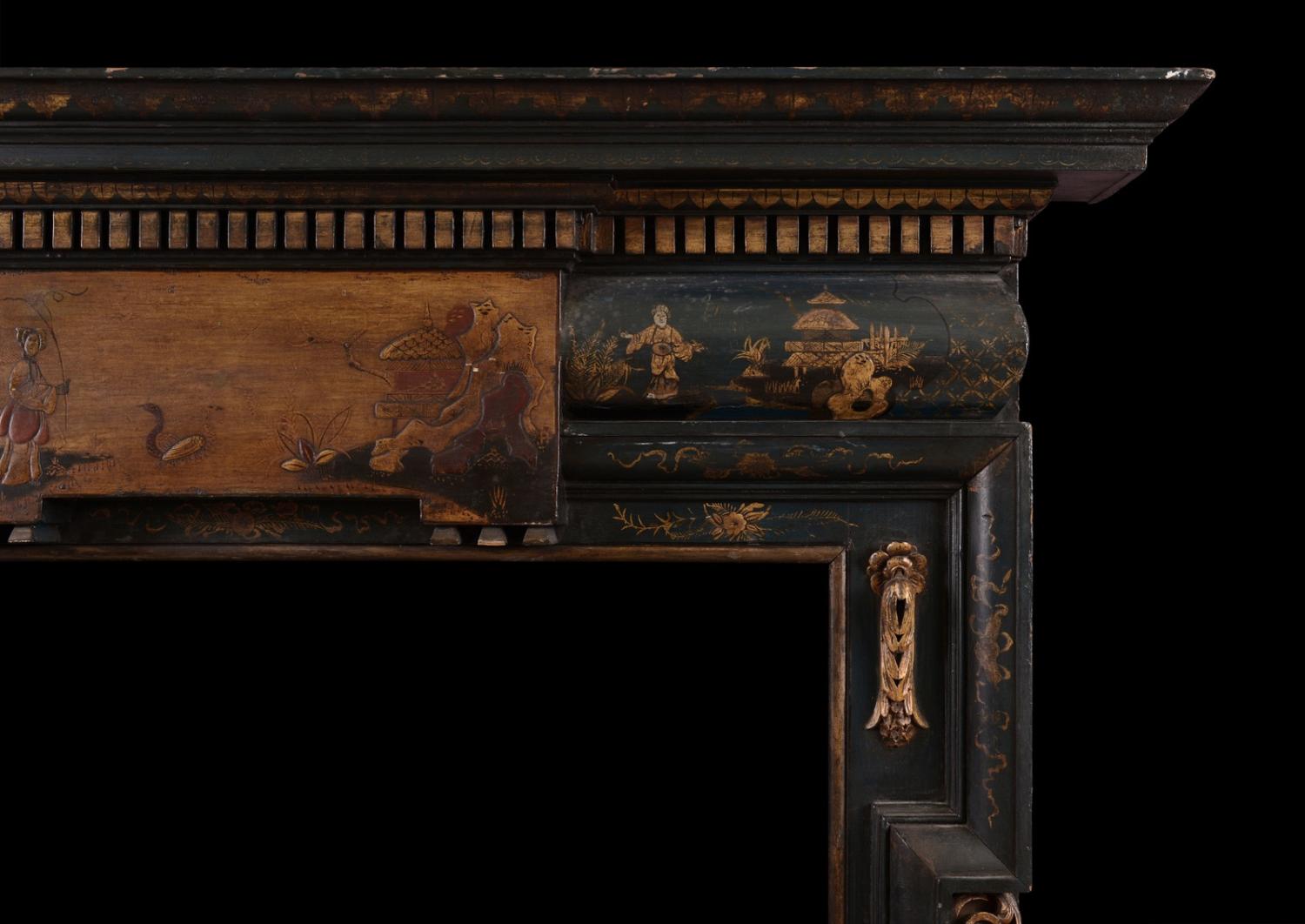 The bright inlay contracts with the dark background colour. An attractive and unusual fireplace. Have a look on our website for our full range of beautiful inlaid marble fireplaces, as well as some beautifully decorated wooden fire surrounds. If you need any advice about choosing your antique fireplace, please get in touch.