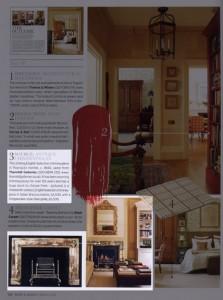 In February 2010, Thornhill Galleries appeared in the "Copy That" feature of House & Garden magazine, which offers readers tips on how to recreate the interiors featured in the magazine in their own homes.
In this instance, the article focused on a private flat in Chelsea owned but hotelier Henry Tonga, the proprietor of one of London's oldest hotels - 22 Jermyn Street. For Mr Tonga's apartment, Thornhill Galleries supplied a heavily veined Italian Pavanazzo bolection fireplace in the main Drawing Room.
The House & Garden piece featured a 19th century Italian Breccia marble bolection fireplace, accompanied by a beautiful Chippendale style polished steel firegrate, both of which connote classicism and elegance.
For more information on this style of fireplace and basket, or to see similar that are currently in stock, please don't hesitate to get in touch, or view our range of Bolection fireplaces.