The world of fireplaces can be a complex one. Historically it was the mantelpiece that defined the architectural style of the interior of a room, whether it be neo-classical, Italian Renaissance, French, Victorian or Gothic. But with such a variety of antique and restored fireplaces on offer how does one begin to distinguish one's Art Nouveau from one's Regency? Here is a brief guide to aid the untutored eye. Over time the design of fireplaces has changed from one of necessity (the practical purposes of heating, cooking and other domestic uses) to one of visual interest and decor. The first "chimneys" were built in northern Europe in the 11th century but it was not until the 18th century that two important developments occurred in the fundamental design of fireplaces. In 1700 Benjamin Franklin developed a convection chamber for the fireplace which improved efficiency and air flow, then in 1796 Count Rumford designed a tall, shallow firebox (better at drawing the smoke up and out) and it is his design that is the foundation of the modern fireplace. The Industrial Revolution and its accompanying housing developments then necessitated the standardisation of fireplaces, which encouraged better functional design. At this time the most renowned fireplace designers were the Adam Brothers, and it is their design, with its emphasis on quality of materials and construction rather than size, that is the basis of all modern fireplaces. The defining elements of any great antique or restored fireplace are its design and workmanship coupled with the choice of materials, which should work together to highlight the magnificence of a particular room. Due to costs involved to source, marble is often considered the most luxurious of materials, swiftly followed by limestone, granite and fine woods. Historically it was the mantel that offered the opportunity for artisans or sculptors to demonstrate their skills in carving fine decorative elements such as capitals, brackets, mouldings, animals, figurines, fruits and vegetation, and in this way fireplaces act as encyclopaedias of sculpture. One could even say that the history of carved mantels is a fundamental element in the history of Western Art because just about every element of European sculpture can be seen on great fireplaces, and many noted sculptors (for example Augustus St. Gaudens) have been involved in designing and carving them. Some typical traits to look out for in the main historical styles are as follows: Fireplaces in the Georgian era (1714-1837) were the focal point of the room and exhibit grand proportions and large openings coupled with elegant fire baskets, cast iron register grates, and decorative fronts depicting medallions, swags and urns. The principal rooms of late-Georgian houses often displayed decorative white and coloured marble or pine and gesso chimneypieces, five to six feet wide, and up to five feet high.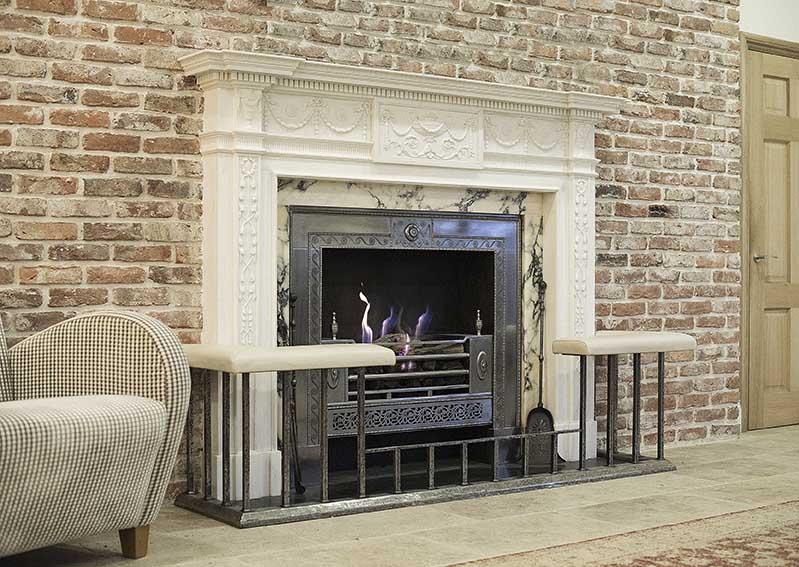 During the Regency period (circa 1811-1820) the proportions of English fireplaces were modified somewhat. By this time, the English had mastered the art of making mirrors which increased in popularity across Britain. Subsequently, fireplaces were made lower to incorporate this new fashion - a technique already used in France many years prior which is why 18th century French fireplaces were lower and deeper than their Georgian counterparts of the period.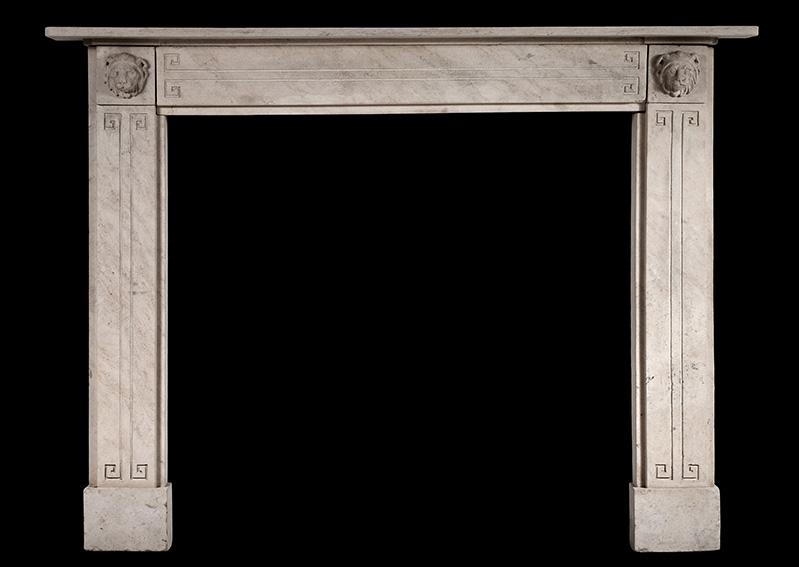 Fireplaces typical of Queen Victoria's reign (1837-1901) can be categorised into two main styles: early-Victorian fireplaces are very ornate and ostentatious and include intricate designs often focusing on florals patterns, while the late-Victorian style is more geometric resulting in cleaner and simpler designs. At this time cast-iron fireplaces were very popular and many fire-surrounds in the principal rooms of London's larger Victorian houses were plain marble, often Italian Carrara (white with grey veins), with fluted or carved corbel brackets. There are also examples of fireplaces following the French Directoire style from this period. Additionally the gothic revival post 1840 saw the introduction of incredibly decorative polished English limestone mantels in greys, browns and Belgian reds in particular. At the same time the global Art Nouveau phenomenon, spanning from 1890 to 1910, was an exciting time for the fireplace industry as it encompassed new and outlandish motifs that suddenly became the height of fashion. A complete departure from previous designs, Art Nouveau fireplaces focus on "organic" design elements - floral and plant-inspired motifs (plus leaves, buds, roots, and seedpods) in addition to highly stylised flowing curvilinear forms coupled with the vertical lines so typical of Charles Rennie Mackintosh. Many see this jump from historical neo-Classicism to Modernism as a seminal turning point in interior design, and fireplaces are excellent examples of this.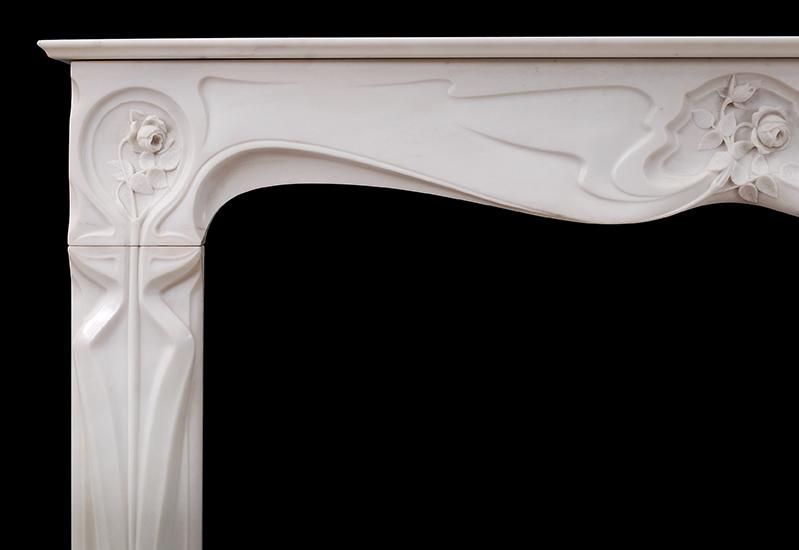 Concurrently the Arts and Crafts movement (1860-1910) saw English designers and artists seeking the renaissance of handcrafted goods instead of mass-produced items. They shared similar ideals to the Art Nouveau movement with an emphasis on individual designs influenced by nature: birds, butterflies and flowers. There was an emphasis on the use of local materials and of course quality craftsmanship. As well as cast iron, brick and tiled fireplaces there are also rare examples of specially beaten copper surrounds. The most well-known designers from this period include William Morris and William de Morgan. The Edwardian period (1901-1910) saw another dramatic change with most fireplaces growing taller and slimmer with less complex decoration compared to the designs of the late-Victorian and Arts & Crafts eras. While some cast-iron inserts with tiles were replaced by canopies on legs, cast-iron combination fireplaces with tiles became extremely popular and are therefore typical of the mid-Edwardian period also. These are similar to the tiled cast-iron inserts seen in the Victorian era but exhibit simpler designs. Complete tiled fireplaces become increasingly popular later on in the Edwardian era. As we have seen, is it attention to detail that defines a great fireplace. This is not only evident in the mantel but also in the vast range of antique and restored fireplace accessories available. Again these vary between country, region, and historical period but common throughout are fenders, firebacks, register grates, fireguards, coal and log boxes, firedogs and andirons. A register grate is a frame, typically made from iron, designed to hold the fuel in the bottom of the fire. Cast iron firebacks are used to capture and re-radiate heat, to protect the back wall of the fireplace aperture, and are excellent examples of ornate decoration. Fenders are the low metal frames that sit in front of the fire to contain any loose ash, soot or embers. Fire tending tools include tongs, pokers, brushes, bellows, shovels and tool stands. Choosing an antique fireplace today is the perfect way to subtly enhance the grandeur of an interior space. Thornhill Galleries also offers a bespoke fireplace design service, making it possible to incorporate the architecture any period or culture to any specific size or specification. Allow us to help you with your exact requirements in the knowledge that our expertise and craftsmanship are of the highest standard. Please see an example of a bespoke piece made for a client below.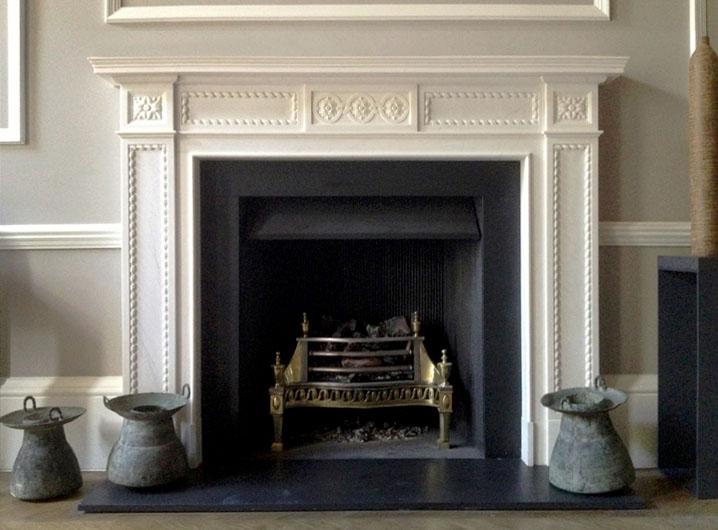 Although the fireplace has seen many changes over time one element has remained constant: the fireplace is an integral part of any well designed home acting as both a social and artistic focal point; a place where people are naturally drawn to and importantly the most notable and memorable part of a room. As the great Roman philosopher Cicero once said, "There is no place more delightful than one's own fireplace."