This is a rare and beautiful Coadestone fireplace, circa 1790 is from Capesthorne in Cheshire. After a fire and rebuilding, the fireplace was taken there in the 1860's from the family's house in Belgrave Square. Belgrave Square post-dates the fireplace by about 40 years so it is quite possible that this fireplace was in the original Georgian Capesthorne. The plinth block is engraved with "Coade, London. 1790".
The frieze is beautiful with classical figures to centre and the end blockings with finely cast doves. The jambs are decorated with classical figures and winged Putti masks and drapery below. With Lion's masks, egg and dart moulding and stiff acanthus leaves the shelf is also decorated.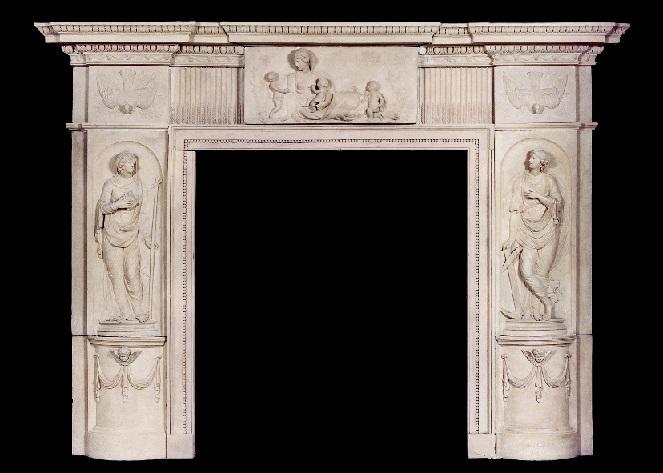 Coade stone or Lithodipyra or Lithodipra, "stone fired twice" was stoneware that was often described as an artificial stone in the late 18th and early 19th centuries. It was used for moulding neoclassical statues, architectural decorations and garden ornaments of the highest quality that remain virtually weatherproof today.
The product (originally known as Lithodipyra) was created around 1770 by Eleanor Coade, who ran Coade's Artificial Stone Manufactory, Coade and Sealy, and Coade in Lambeth, London, from 1769 until her death in 1821. It continued to be manufactured by her last business partner, William Croggon, until 1833.
Coade stone features were produced by appointment to George III and the Prince Regent for St George's Chapel, Windsor; The Royal Pavilion, Brighton; Carlton House, London; the Royal Naval College, Greenwich; and refurbishment of Buckingham Palace in the 1820s. Examples can also be seen at The Octagon House in Washington, DC and at the University of Maryland above the entry to The Rossborough Inn the keystone features a carving of the head of Silenus.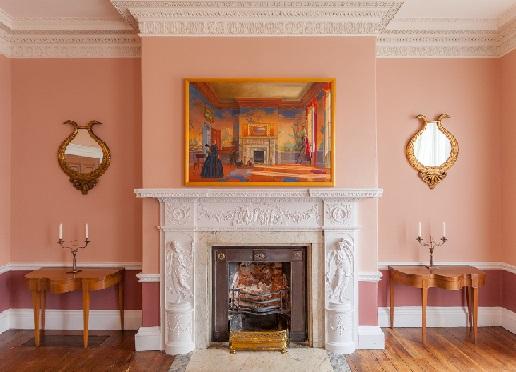 To find out more about this piece please visit our website where you can view it & many other rare & unusual marbles.