Following the death of his grandfather Louis XIV of France (aka The Sun King), a young Louis XV was crowned king at the tender age of five. He was to rule from 1715 to 1774 and would mark this time with stunning developments in the decorative arts, as well as a marked decline in royal authority which would ultimately lead to the French Revolution. At five years old, Louis was too young to rule. The Duke of Orleans controlled France as Regent and preferred the less ceremonial environs of Paris to those at Versailles. As the interiors of Paris were smaller and more intimate, furniture became more practical in scale with a greater focus on domestic privacy, leading to a transitional design style called the Regence. The Duke would foster Louis' love of the decorative arts and encouraged the further development of artistic design after relinquishing his regency to Louis. While waiting to become king, Louis was tutored by the future Cardinal André Hercule de Fleury. It was Fleury who propelled the young Louis' interest in science and nature which would show itself in Louis' future design choices. Fleury and was duly made first minister when the young King was deemed old enough to rule in his own right. After Fleury's death Louis chose to rule without a first minister rather than replace him. At the beginning of his reign, Louis XV enjoyed huge popularity. He was known as Le Bien-Aime or 'The Well-Loved' and French political, diplomatic and stylistic popularity enjoyed its heyday across Europe. He employed a system of secret diplomacy known as le Secret du roi. Agents were stationed throughout Europe carrying out political assignments which were often in the interest of France but in direct opposition to public politics, thus Louis could give face value to increase popularity while controlling politics behind the scenes. Louis' popularity began to decline steadily however when he allied himself with Austria just as they entered the Seven Years War (1756-63) against Great Britain and Prussia, losing the majority of France's colonial outposts and decreasing French political and diplomatic influence in central Europe. Despite Louis' political and personal decline however, French decorative arts still remained popular. During his reign Louis XV kept several mistresses who each held political power, but also used vast quantities of the king's money in order to finance their artistic and design patronages. The two most well known are Madame de Pompadour and the Comtesse du Barry. Madame de Pompadour especially was an avid patron of the arts and helped finance many of the designers who would create the titular Louis XV style, part of a greater design period known as the French Rococo. She acted as patron to painters such as Francois Boucher and was responsible for the building of the Petit Trianon on the grounds of Versailles which is a fine example of Louis XV architecture and design with slight elements marking a transition to the Neoclassical.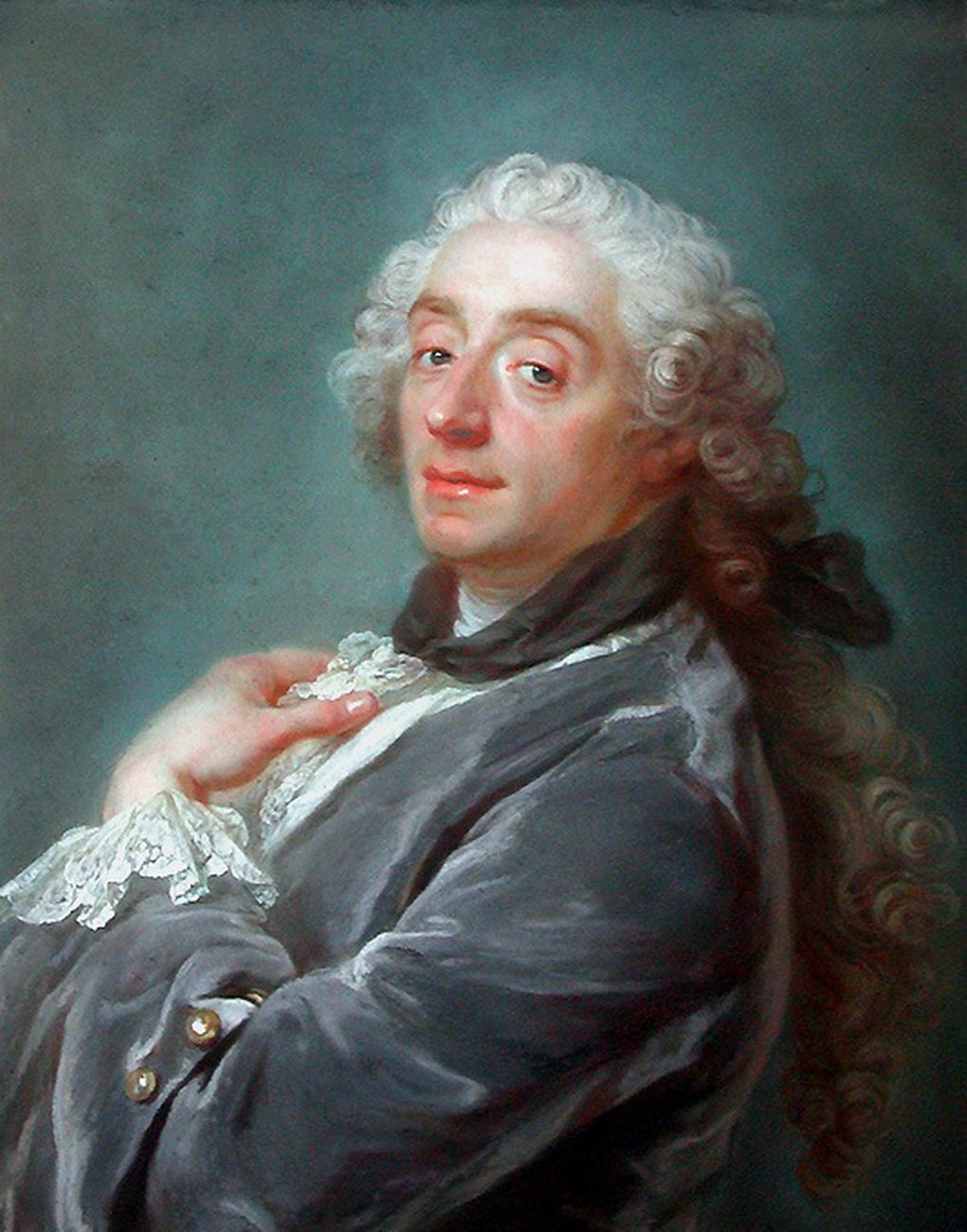 Painting of Madame de Pompadour by Francois Boucher The Louis XV style was a huge change from the rigidity of the Baroque style which had come before. It focussed on free flowing design and asymmetry, was highly ornamental and elegant. There was a focus on elaborately carved forms, S and C shaped scrolling elements, curved supports combining practicality and elegance. Design motifs were based on the natural but also had elements of fantasy and the exotic, with imported silks lining the walls and an Italian influence seen plainly through the use of marble or imitation marble flooring and chimneypieces, such as this example from the Petit Trianon at Versailles.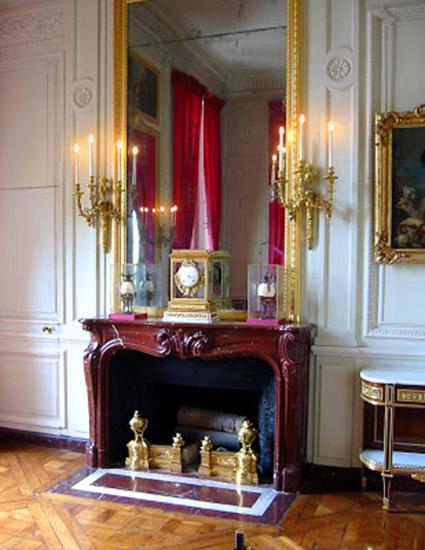 A similar example of the Louis XV style can be seen in this antique French chimneypiece from our catalogue. https://www.thornhillgalleries.co.uk/item/stock-number-3711https://www.thornhillgalleries.co.uk/. It is an antique marble fireplace in Kuros Dore marble, largely from quarries near Saint-Pons-de-Thomieres in South West France. This antique mantel piece is a fantastic example of the free flowing, natural motifs inherent in Louis XV style fireplace design.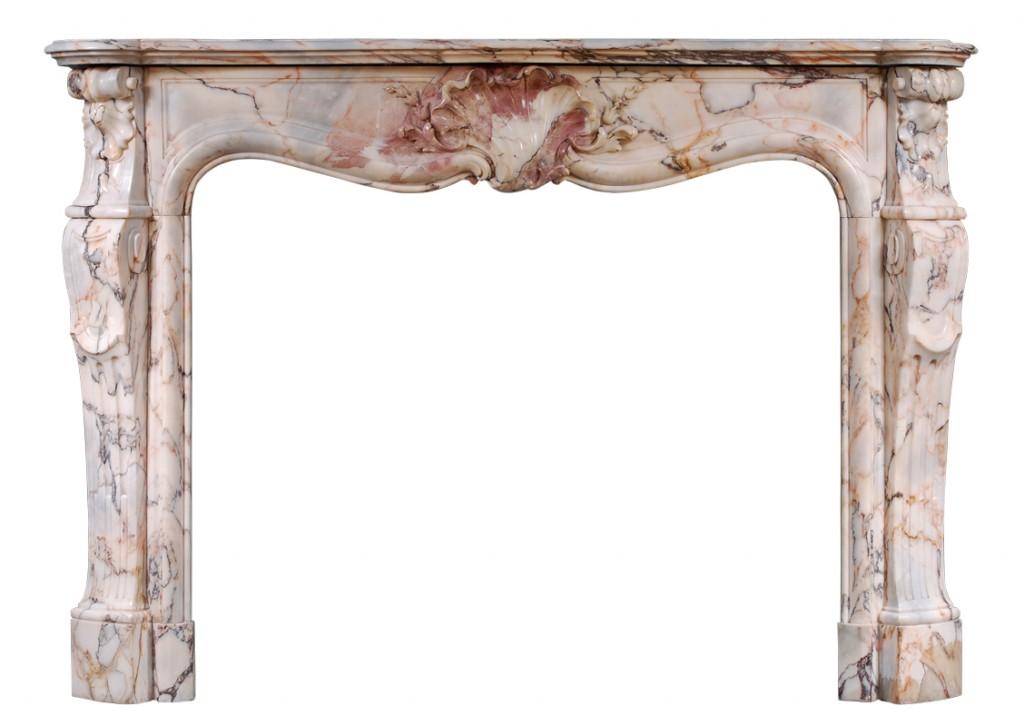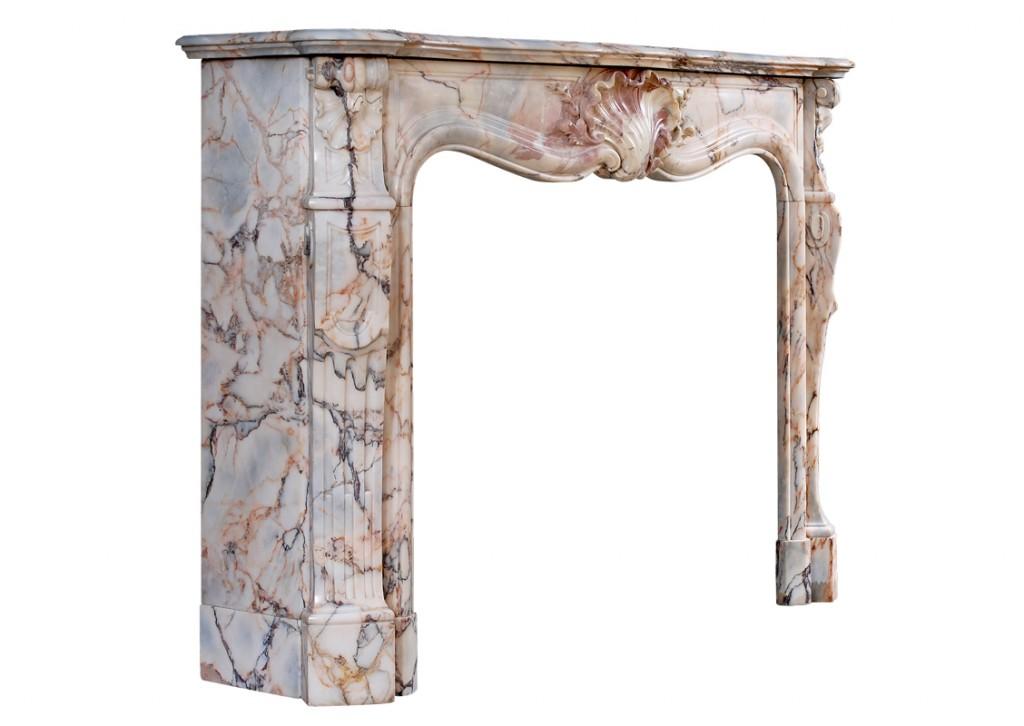 Toward the end of his reign, Louis was plagued with infighting and intrigues at the instigation of his children Louis and daughter Adelaide. The monarchy received another blow when the Queen consort, Marie Leszczynsaka of Poland died in 1768. She had been much loved by the people as a symbol of dignity and Catholic piety in direct opposition to the extravagant King and his mistresses. On the 10th of May 1774 Louis XV died of smallpox and was succeeded by his grandson Louis XVI as his son Louis had died nine years earlier.