This is a rare and impressive 19th Century (circa 1870) cast iron and gunmetal Neo Gothic firegrate. The dogs are ornately cast with gunmetal enrichments, scrolls and round finial tops. The decorative front has a shaped, ornately cast back. This firegrate is from the Falkirk Foundry in Stirlingshire, Scotland with official stamp on the back. A very important & rare piece.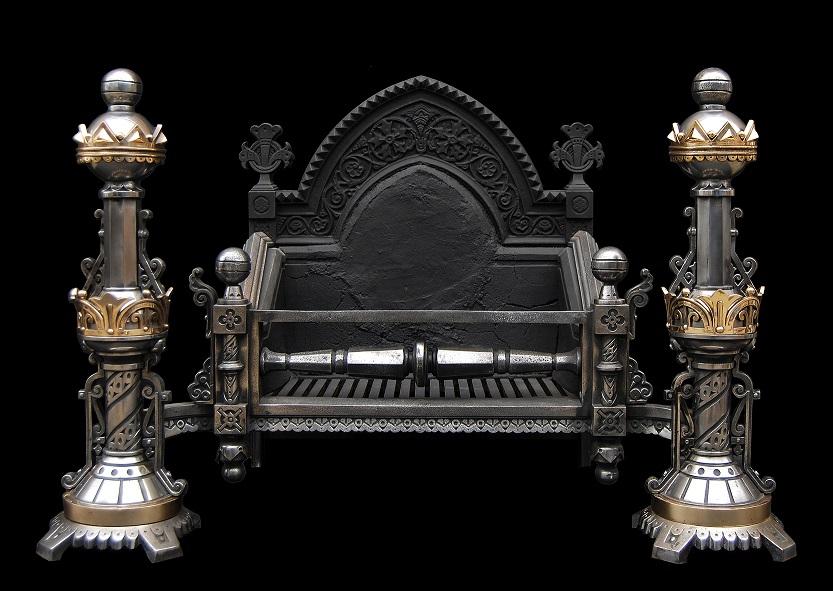 The role of a firegrate in an open fireplace is threefold:
On the practical side, it helps contain the solid fuel used, be coal or logs, preventing them from spilling out onto the hearth. They can also be adapted to hold gas fuel burner
A grate also provides air flow from underneath the logs, which does tend to burn the wood more quickly, but does provide a large flame picture in the process.
A grate can enhance the appearance of a fireplace significantly. Cast iron is a material that works nicely in this situation as you can have many varied shapes & designs can easily be cast. Cast iron is a very practical material for a fireplace grate, as it takes the high temperatures generated in these fireplaces that can quickly burn out a lessor steel design As cast grate enhances the appearance of a fireplace even when it is not burning, hiding and containing what would be a pile of ash.
To find out more about this piece please visit our website where you can view it & many other rare & unusual marbles.