Thornhill Galleries prides itself on quality and service, and we are pleased to be able to oversee the whole bespoke process, from the initial design meetings to the completed installation of the fireplace.
Inspiration
Whether you have seen an antique fireplace in a book or magazine on which you would like to base the style, or you don't have an initial preference of design, we have the experience and resources to create a fireplace tailored for you. A good source of inspiration is a walk around our showroom looking at the many fireplaces we have on display.
In addition we have a library of several hundred antique fireplaces of past and present stock to aid the creative process. Although we specialise in reproductions of period fireplaces we can also undertake more contemporary or unusual designs.
The Design Process
We source some of the finest materials, quarried all over the world, including English and French limestones, white marbles such as Statuary, Carrara and Arabescato, and a variety of coloured marbles including those used originally for period fireplaces such as Jasper, Siena and Connemara.
Prior to commencing work on making the fireplace, we would produce a technical drawing for review and approval. If required a member of our team can conduct a site visit to take detailed measurements and advise on any stylistic issues, to ensure the scale and design of the fireplace complements the setting.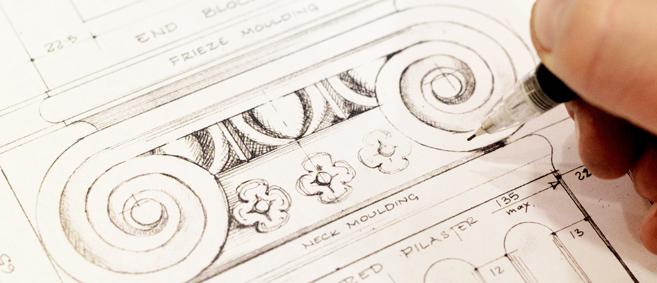 Production, Delivery & Installation
Once the technical drawing has been agreed, our experienced team of stone masons and carvers will hand produce your fireplace using time honoured tools and methods lending the fireplace both a traditional and unique quality. We are pleased to offer a full delivery and installation service inclusive of the supply and fixing of hearths and slips, iron or briquette interiors if required.
We are confident that our considerable experience will produce a fireplace that you will be very happy with. Please do not hesitate to contact us if you would like to discuss any requirements you may have.